Youngblood's assistant is a skeleton-like shapeshifter ghost who often accompanies Youngblood. His real name is unknown.
History
Youngblood's assistant has always been seen beside Youngblood, accompanying him in whatever animal form best suits Youngblood's costume.
For example, he was a parrot when Youngblood was a pirate in "Pirate Radio", and he was a horse when Youngblood was a cowboy in "The Fenton Menace". He was absent when Youngblood was an astronaut in "Livin' Large".
Personality
He is often annoyed by Youngblood. He has the habit of correcting Youngblood when he says words incorrectly, informing him that his word choice is inappropriate for his current character, or reminding him of words that he forgets.
Powers and abilities
Intangibility, Invisibility, and Flight: Standard ghost powers.
Shapeshifting (apparently): He can change his physical appearance to different animals. He presumably only uses this power to go along with Youngblood's costumes, as he has never been seen fighting.
Underwater Breathing: Youngblood's assistant has been seen breathing and talking underwater. It's possible that this is due to him not needing to breathe at all due to being a ghost or this could presumably because of the Ghost Shield that was around his ship.
Sightings
Season 2
Gallery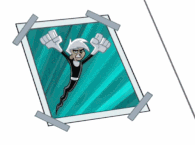 Click here to view the gallery.
Trivia
Youngblood's assistant is one of the very few ghosts who does not make a cameo in "Phantom Planet" turning Earth intangible.